Interior Design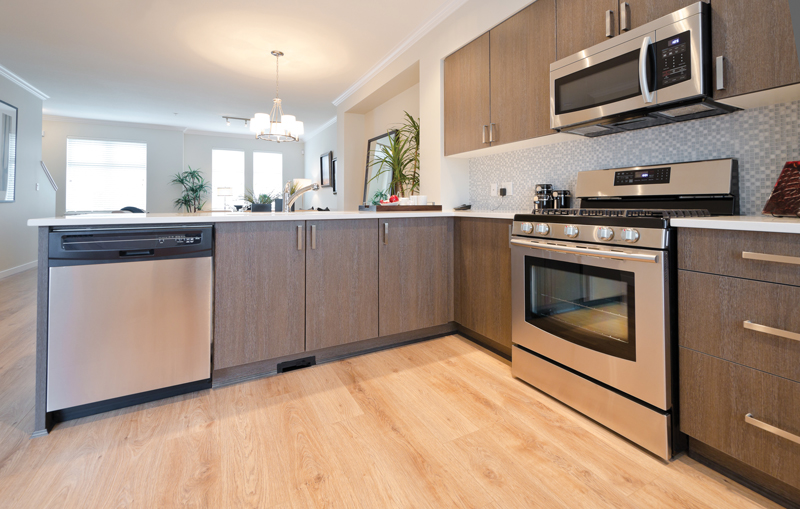 Let's face it, not everyone loves to talk trends. Trends can create a sense of pressure that an entirely good kitchen or bathroom needs to be overhauled in order to keep up with an ever-changing and evolving industry. However, instead of looking at trends as an all-or-nothing endeavor, look at them as a way to provoke ideas and discussions into areas of your home that may be failing – whether it's a current design or layout flaw, poor material choice, or simply a space that has always been a source of frustration. Reading up on trends is a way to figure out, in either a small or large way, how to potentially improve your space and ultimately create more enjoyable and efficient day to day living. One other thing to consider is that trends and good design go hand in hand. Spending some of your home budget on a reputable designer or architect is a smart thing to do. Professionals think of things that we don't and can quickly implement solutions to your home so that it looks more beautiful, and more importantly functions better. Making a quick dinner becomes breezy with a well-placed sink, appliances and enough counter space to work in. Grabbing a quick cup of coffee in the morning shifts from being a bother to a pleasure when you have a dedicated space, perhaps built-in, for that enviable cappuccino maker. And if you are a keen entertainer, having the perfect flow in the kitchen and common areas is critical to not only the happiness of guests, but to you as the host. So – here are a few trends we are noticing in the kitchen that you can ponder for the next big reno, that are both practical and gorgeous to boot.
SEEING DOUBLE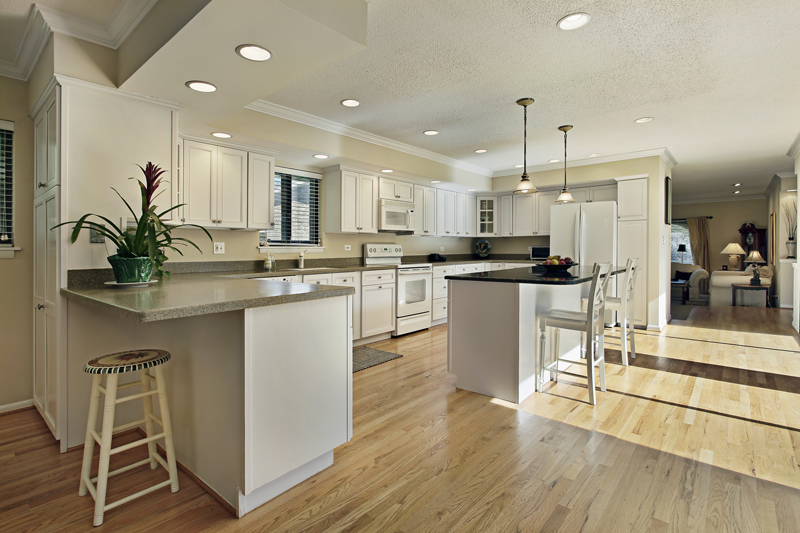 It used to be that two sinks in the kitchen was cutting edge. Now, we are noticing kitchens that have two islands, or an island and a peninsula. This combination allows for more counter space so that food prep and serving areas can remain independent of one another (along with the mess).  One island, designed for prep, is built close to the appliances, sinks etc, and the second island is used for serving and decor, without incorporating any appliances, sinks, dishwashers etc. The double island is both a cook and entertainers luxury, and is visually gutsy and gorgeous too.
DIFFERENT SURFACES

How do you decide on marble, butcher block, granite, Corian, Quartz, concrete along with so many more options available these days for a kitchen counter? You may love the look of Carrera marble but worry about the red wine stains. As much as you love the idea of butcher block for easy chopping and maintenance, the thought of having it everyone in the kitchen could seem overwhelming. What we are noticing more and more is a mix of surfaces in the kitchen – perhaps wood counters on the prep surfaces, and granite on the island. You can't go wrong with the mix, pretty much anything goes. Visually it creates interest, and is so practical for personal preferences and needs in the kitchen.
OPEN CONCEPT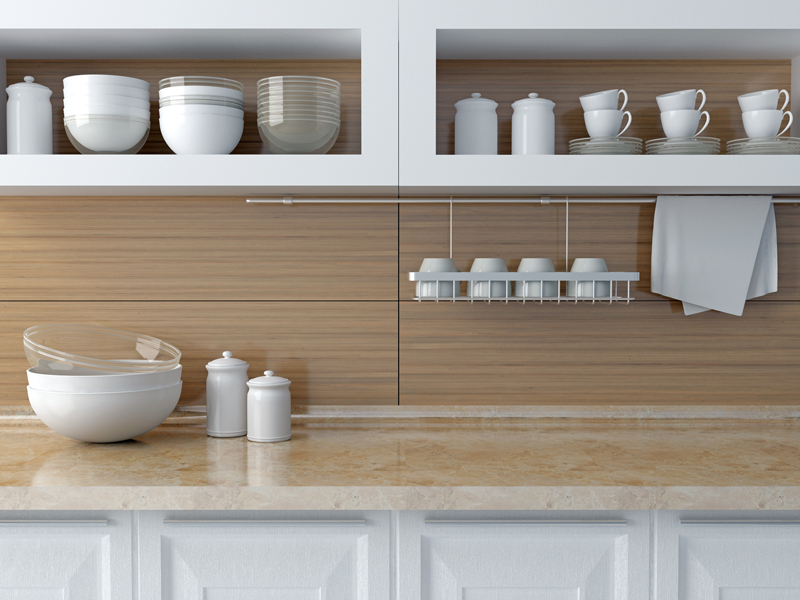 One of the biggest shifts we are noticing in kitchens today is a lack of upper cabinetry. More and more kitchens are being outfitted with open shelving in the upper areas of the kitchen, to hold quick-grab items such as cups and glasses, plates and bowls, and pretty items such as vases, canisters or serving platters. Lower cabinets are still important for concealed storage, food and cleaning supplies. We love this trend because the kitchen seems more open, airy and ultimately feels bigger without big bulky cabinets. The best way to pull it off is to keep it simple – make sure your glassware is mostly matching, along with dishes (white always looks great) or else it goes from elegant and clean to messy and sloppy very quickly. Also don't forget about your backspash behind the shelving – simple stone, glass or even painted backslashes look best with this look.