The jewel of Central America, Costa Rica has been enticing snowbirds for it's tropical climate and eco-tourism
Home to 5% of the worlds plant and animal species and an increasing number of expatriates, Costa Rica truly is a paradise on Earth. A cultural melting pot with European, Afro-Caribbean and South American influences, 4 million Costa Rican inhabitants, or Ticos, are proud to consider their nationality as a union of various ethnicities. Teeming with wildlife in unspoiled protected National Parks, Costa Rica is an eco-tourist's dream and millions have flocked to it's shores to take in the unrivaled natural beauty. The country's socio-political stability, combined with an advanced modern infrastructure and highly educated population has made Costa Rica very attractive for foreign business investment, and the economy is booming as a result. Ronald Umana of First Choice Realty in Costa Rica gives us the broad strokes of the diverse regions the country has to offer.
Guancaste Region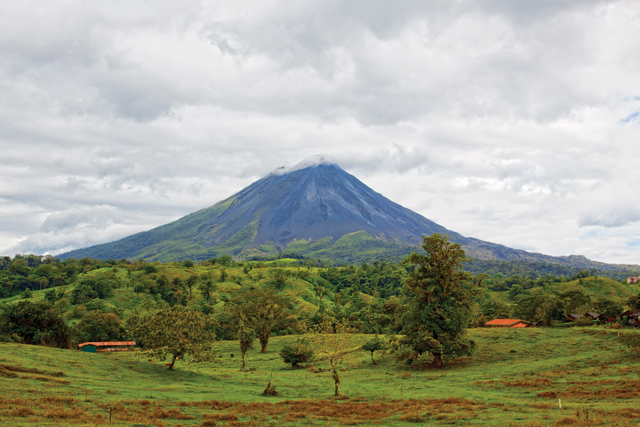 Arenal Volcano , Guancaste Region of Costa Rica
Located in the Guanacaste area, these beaches offer lots of options for adventure and recreation, and are sure to satisfy the expectations of visiting tourists. For those who like sunbathing on the coast, there is radiant sunshine almost all year round. If you are looking for a quieter, retirement style area then look into the beaches found near the Santa Elena Peninsula where there are small boutique hotels. The Gulf of Papagayo beaches have hotel compounds that often combine different activities such as swimming, diving, surfing, windsurfing, fishing, beach volleyball and golf or simply enjoy the sun while walking along the coastline. For those curious about the gastronomy of Guanacaste, there is a strong Indian influence. The products of the area are mainly based on maize, some of them are "bizcochos" or biscuits, "tortillas," "pozol," and rice with maize. If you have a sweet tooth, you should try the popular "cajetas." You can reach the local beaches of the area with direct flights from the United States to the international airport in Liberia, Daniel Oduber, or also by land, from San José and the Middle Pacific.
Central and Mid Pacific Region of Costa Rica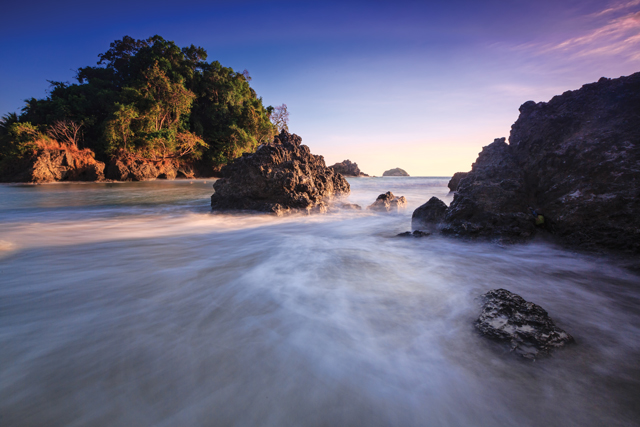 Manuel Antonio Park, Costa Rica
In the Central and Mid Pacific regions your visit may begin at the islands, offering visitors beautiful beaches to sunbathe, swim, snorkel, enjoy a boat ride, or peacefully take in the surrounding nature found in the rainforests. In this area you'll find attractive places like Puntarenas, where cruise ships dock on the piers and you can sample some of the famous gastronomy including well-known and varied seafood dishes like "ceviche" (marinated/pickled fish in lemon and/or vinegar) and baked whole fish. Other specialties of the region are the "churchil," made with flavoured frappée ice, condensed and powdered milk and ice cream, or "mate" and fruit salads.
In the Middle Pacific, you will find exuberant landscapes where the sun, beach and forests combine into national parks such as Manuel Antonio and Marino Ballena. For surf lovers, the beaches of Jacó and Hermosa have the ideal conditions for this sport, plus a great nightclub scene too. All the beaches of the area offer comfortable accommodations in a variety of hotels. There's easy access thanks to the International Airport Juan Santamaría, from where you continue by land for approximately 3 hours, until reaching the desired destination.
South Pacific Region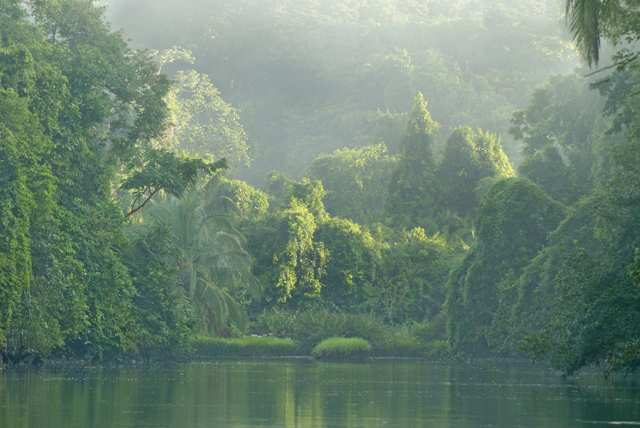 River in Corcavadao Park, Costa Rica
Perfect for diving and snorkeling, this South Pacific region of Costa Rica combines the attractions of a beach with the stunning virgin vegetation and coral reefs of Caño island. Relax at the quiet beaches of Golfo Dulce and the Osa Peninsula, both of which are protected by Biological Reserves and the National Park of Corcovado. Access to this area is via Golfito or Puerto Jiménez airports, they provide internal flights allowing more direct access to these naturally diverse parts of the country, surrounded by magnificent landscapes and formed by the forests that populate the seaside. Great lodging facilities are available including many rustic accommodations that connect closely with nature. Plenty of fishing, surfing in the waves of Pavones, one of the longest in the world. This is a stunning part of Costa Rica and well worth a visit.
South Caribbean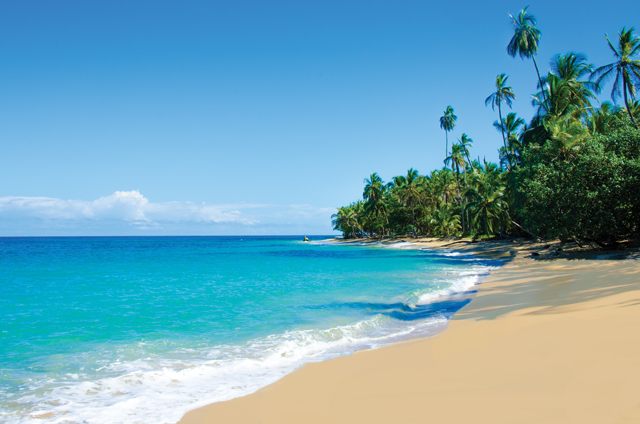 Wild Beach, Costa Rica
More beautiful beaches are waiting for you to fish and surf in this region of Costa Rica. When visiting the South Caribbean with your family or friends, stop to admire the contrasting white or black sand on the beaches of Cahuita and Puerto Viejo. Beaches and forests co-exist side by side and the exuberant vegetation blends perfectly with the seashore. Notable in this region are the coral reefs, protecting an incredible amount of fish species. Local culture has a strong Afro-Caribbean influence. You can learn about the authentic architecture of the region, the joy of its people, the popular fashion of braided hair, the flavor of the exclusively characteristic foods of the area such as rice and beans, "pati," "plantinta," chicken with coconut and "ron don" along with many other amazing, exotic experiences.
Islands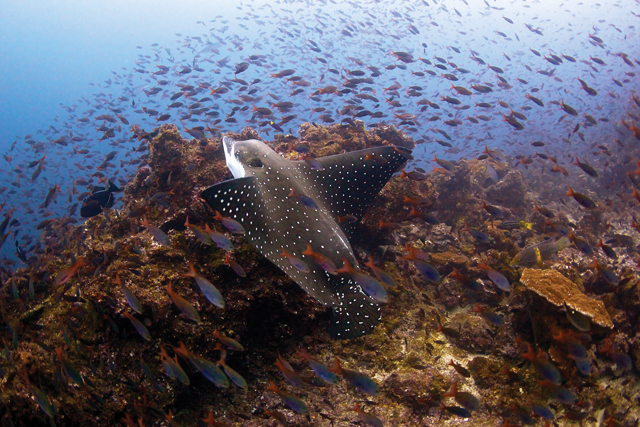 Marine life off the coast of Coco Island
Costa Rica's islands are the destination for sun, breeze and sea. The most surprising may be Coco's Island, declared by UNESCO as Natural Heritage of Humanity. It is located 330 miles from Costa Rican territory, and you can reach all of the natural beauty, diving or hiking in the island best by boat, a trip that lasts 36 hours with a specialized charter company. When you arrive, enjoy incredible examples of marine life, such as the whale shark, white-tip sharks, tuna fish, parrotfish, corals, mollusks or the hammerheaded shark, in quantities that are hard to find elsewhere. Another of the popular islands is Tortuga. Besides enjoying the beach, there are a variety of diverse aquatic sports to try. There is also Caño Island where you may also learn about Pre-Columbian legacy as well as being perfect for diving in crystal-clear waters. Do not miss the islands of the Gulf of Nicoya, also with plenty of diving and fishing, and the added bonus of a short travel time to get there. All of these islands you may reach by chartered boat. Tours are organized by specialized companies, offering everything necessary to make your stay comfortable including meals. Generally, visiting the islands are limited to daytime only, as there are no hotels available.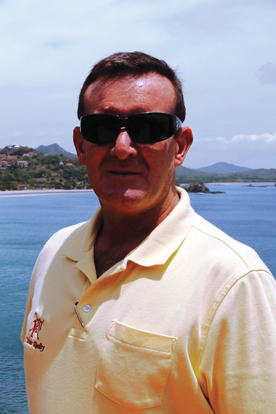 Ronald Umana is Senior Consultant at 1st Choice Realty & Investment Group in Costa Rica. He can be contacted via email at rumana@1stcrcr.com